Discover the New SAY MY NAME Smiley x Crazy Sir-G Collection: The Radiance of Yellow and Red in an Ocean of Black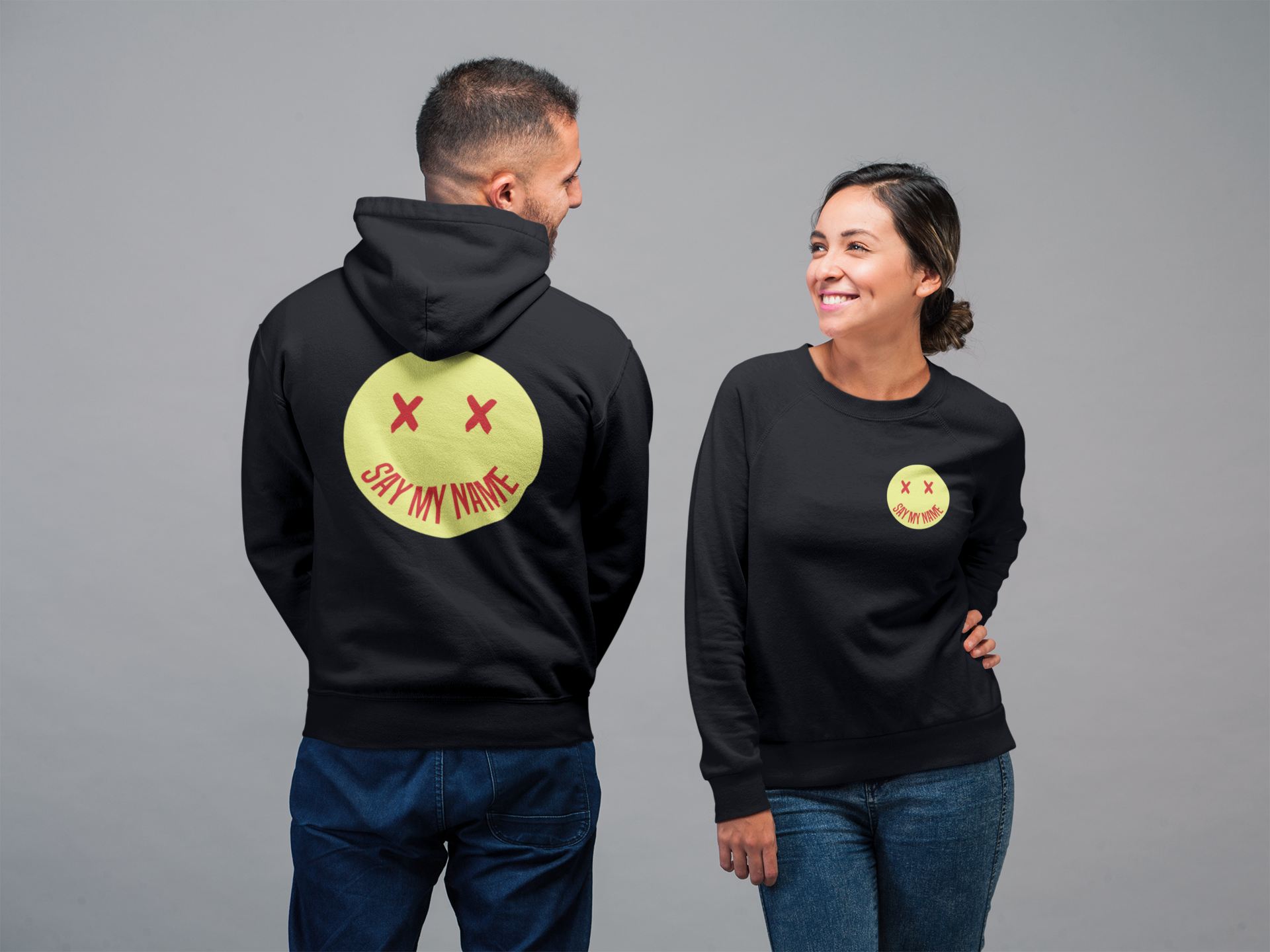 Introduction
In the world of fashion, it is sometimes necessary to shout out who we are, to make our identity resonate brightly. It is with this in mind that the brand new collaboration between "SAY MY NAME" Smiley and Crazy Sir-G is born, bringing with it a daring collection where intense black blends harmoniously with bright yellow and vibrant red. Each garment and accessory is a style statement, a call to self-expression.
The Fusion of Two Universes
The meeting between "SAY MY NAME" Smiley and Crazy Sir-G is a true marriage of two creative worlds. On one hand, SAY MY NAME Smiley, known for its modern aesthetic and commitment to celebrating individuality. On the other, Crazy Sir-G, a bold brand aimed at those who refuse to go unnoticed. Together, they create a unique synergy that transcends the limits of conventional mode.
Intense Black: Backdrop of Expression
Black is the backdrop to this collection, symbolizing the solid foundation on which each piece stands. It embodies strength, elegance and mystery, offering everyone the opportunity to feel powerful and affirmed.
Bright Yellow: A Ray of Sunshine in the Darkness
Bright yellow, omnipresent in this collection, brings a dose of light and positivity. It represents joy, energy and creativity. Every touch of yellow is like a ray of sunshine piercing through the dark clouds, bringing with it a burst of vitality.
Vibrant Red: Affirmation of Identity
Red, the color of passion and determination, stands out with the bold cry of "SAY MY NAME". It encourages assertiveness, self-affirmation and the uncompromising expression of one's identity.
Key Pieces of the Collection
The "SAY MY NAME" Hoodie : A must-have in the collection, this hoodie embodies the very essence of individual expression. The yellow smiley shines brightly on the black background, while the message "SAY MY NAME" in red captures attention and encourages self-confidence.

The "Eclat Jaune" hat : This hat is an essential accessory for those who want to add a bold touch to their outfit. The bright yellow and the Smiley logo create a striking contrast with the black.

The "Vitalité Rouge" T-shirt : With its "SAY MY NAME" print in bright red, this t-shirt is a cry of defiance and audacity. It is intended for those who are not afraid to make themselves heard.
Conclusion: Express yourself with SAY MY NAME Smiley x Crazy Sir-G
The new "SAY MY NAME" Smiley collection in collaboration with Crazy Sir-G offers much more than clothing and accessories. It is a statement of style and identity, a call to self-confidence and uncompromising expression. Immerse yourself in the bold world of black, bright yellow and vibrant red and let your personality shine through each piece. SAY YOUR NAME loud and clear!
Don't forget to visit our online store to discover the entire collection and be inspired by this unique fusion of style and individuality.
---